You do this, full time?
It's a question I get a lot these days. Just shy of 2 years ago I left a comfortable place. I left the corporate energy world to join the new world of work: the one I've created in entrepreneurship. I left my Herman Miller chair, business class flights, annual bonuses, and stock. I cut my pay to $0 and dove into my pocketbook and invested six figures into a cocktail napkin dream that in a year has rocked my world. It's bigger than me and ….
It's liberating.
My former seat had lots of luxuries. It was comfortable, predictable, generous, and unassuming. It was really easy. Much earlier in my career, the number of zeroes mattered. I pulled a great salary, made more than generous bonuses and even became debt free before 40 having paid my mortgage – a feat that no one imagines possible before retirement, right?
People think leaving was crazy. Many say I was brave. Crazy? Brave? Yes. But recently I was able to hear my choice isn't just okay. It's the future.
A few weeks ago I became connected with Brian David Johnson who spoke about the #FutureofWork at the JIVEWorld annual customer conference. He had three sound points (thanks Brian, next time I'll hire you and not a therapist). They made so much sense, that I laughed out loud. (You know when you're the only one laughing so lough that you get called out?)
I felt validated. I could finally identify what I've been thinking about and feeling for a long while about this "new world of work". His thoughts:
Work is not work.

Isn't this the truth?
While we hear often we shouldn't live to work, I see a different meaning. I don't feel like my work is work. It's my life because it embodies who I am, what I believe, and how I want to make a dent in the universe. And, here's the really liberating part. I'm not going to apologize for any of it. I'm so happy to have found what I'm supposed to do because we often don't get the luxury of that because time is limited and we spend a lot of it trying to figure out who we are and accepting who we are. At 40 I know who I am and own it proudly.
But if you are thinking to yourself right now that your work is too much work...I challenge you to find something else. You're in the wrong line of work if it doesn't have meaning...

Speaking of that, Brian also says…
We're all looking for meaning.
AMEN! Can I get a second one? J Meaning gets me up out of bed knowing the work (that isn't work) is there to do to drive impact. Wouldn't your life be more meaningful if you got up and went to your work because you wanted to and not because you have to? I see so many miserable souls hanging on to title, salary, and yes, the comfortable chair.
Lastly Brian says….
The future of work is about reimagining the value of people.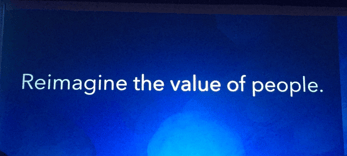 This is so true. The future of work isn't about where it's done or how its done, it's about the knowledge and insights and intellect of the people doing the work. And in the knowledge economy it's about people. Companies that embrace this will thrive. Those who don't get it or ignore it, will perish. At the end of the day if you're in a commoditized business (of which in my case, energy is), culture is what will drive a wedge between the winners and losers.
So I'll say it again. The future of work is about you and me. It's not about what or how. It's about who.
So...How do you see the future of your work? Is your work, "work", today? Are you contributing meaning? How do you see yourself and others and the value you bring to our world?
Thanks for being a part of mine.