Hello world.
Two simple words that the Macintosh computer wrote in 1984 when Steve Jobs unveiled his innovation...his dream.
What does it take to have a dream and make it work?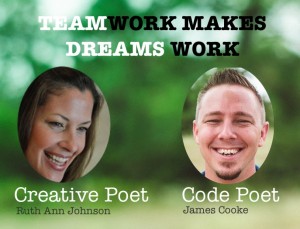 It's takes a vision. Vision is about carving out the path between the start and finish line.
It takes teamwork. A team is what will take you on that path and make your dreams happen.
Team stands for
T

ogether

E

veryone

A

chieves

M

ore.

In my 17 years leading and helping teams, I've come to learn a very simple thing. Nothing happens without teamwork. Teams make dreams come true.
Today's site launch is possible because of the fine folks at Cake Communications. My thanks to Ruth Ann Johnson, Creative Poet and James Cooke, Code Poet for all of the hard work in the past 8 weeks to make this site a reality. If you want a great website, call them.
My friends and family also made today happen. Endless nights of writing and fretting are now over.
Thank you to my loyal readers, whether you are new or my regulars, and the remarkable men and women who've told their stories. You make this corner of the earth, fun.
Teamwork is what makes dreams work.