My daughter never ceases to amaze me. She looked up in the sky earlier this week and pointed to the crescent moon. Her hair blowing in the wind, she smiled and said, "Mommy look, it's the moon."
She proceeded to tell me that the moon was in this big sky, and that at night, the moon was near a whole "big lot of stars". She paused a few seconds and said with a grin from ear to ear...
All you have to do is reach for them.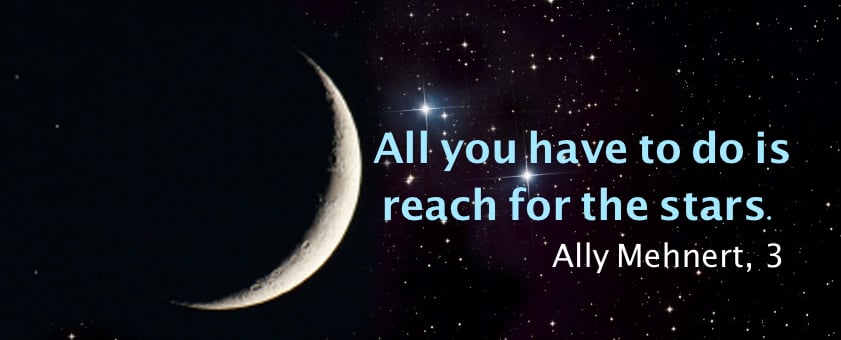 I love the innocence of our children. I love the lessons they teach us. I love when they remind us of the real meaning of life: to live. They are carefree, curious, full of creativity, spontaneity, and lack the baggage and cynicism we get with our age. Ally is right. The stars ARE there for us, all we have to do is reach for them.
I've been thinking about flying to the moon and reaching for the stars since I was 4 (after all I did want to be the first female president), but who has the time to make that happen, right? We grow up so fast and begin this thing called life, that we often forget about finding meaning in our lives. We chase money, love, and sometimes enjoy too much of a good (or bad) thing. When do we stop to enjoy it? When do we take time to fill it with the people and the things that matter?
We have to make the time and the choices.
A year ago I began making time and choices. I started dreaming about my idea of the perfect next step in my career. After five years of quietly keeping my writing to a select audience, I started to find my voice, my calling...my platform. Thanks for reading, connecting, and for your support. This journey of self discovery has been like planning a big trip. What supplies do I need? Who should I take with me? What do I value and what needs to just go? Do I need to take my favorite pillow for comfort?
And then beyond the obvious questions, my 3 critics emerged. What if you can't deliver? What if you run out of gas? What if you lose your way and you fail to bring an extra iPhone charger? What if you leave the very thing you know well for the black hole of the unknown? And then I am struck with, what if you don't try? Will you ever forgive yourself?
So I began to put together a series of options: a Plan A, B, C, and D. Nevermind that Plan A was always what I wanted but that B, C, and D were good options, I just didn't want them as bad. It showed. B, C, and D never happened, so Plan A it is.
I've always wanted to connect all the stars I've been collecting over time to create the perfectly abundant solar system. What are my stars? Skills, experience, relationships, failures and learnings. Stars are bright and dim but they each bring unique character to the sky. It's about time I lined them up perfectly against a big shifts I've seen coming in society, my industry, and in my little corner of the earth.
And so the time has come. My bags are packed. I've got supplies. Who needs a pillow for comfort when my child's wise words give me peace reminding me everything is going to be fine if I just reach? I've got great co-pilots going with me and a Mission Control center to phone a friend when I need it.
Like my child who smiles at the crescent moon and stars in the distant blue sky, I'm setting off for a long journey because the universe has spoken loudly that the moment I've been waiting for is here and it's time to GO.