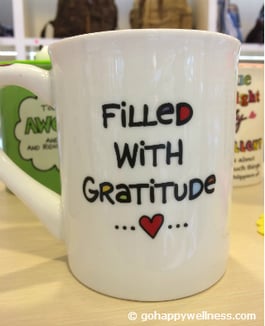 It's 4:30 pm on Thanksgiving eve. The bird is in the oven slow cooking for 6 hours, the sides are made, the car gassed up for tomorrow's trip downtown for the parade, and I am sitting up in my office finalizing a few things before I cut off my computer.
I cannot help but think about how grateful I am right now in this moment. Next month I turn the big 4-0 on December 27. They say life begins at 40. Well, I couldn't wait so I turned 40 early this year. And this year I've learned that gratitude is a process that helps us fully understand and appreciate what we have right here, and right now. And my life, my work, and all I have is in great abundance.
Isn't it strange how you can feel so full but realize it doesn't take much to get there?
Here's what fills my cup of gratitude to the top:
I'm alive! I got the gift of breath again this morning. Getting up and getting the chance to be here is something I treasure every day.
No really...I'm 'really' alive! I feel more alive now than I ever have been. I'm swimming in a new world of possibilities and living my gifts.
I'm blessed with amazing people! I've got the best husband, daughter, parents, sisters, friends, and supporters (yes, you) in this world. You've stood by me and never stopped believing I could do it...whatever "it" is.
I'm consistently making a difference! Today I received three random emails from Pink Petro members. One said "Thanks. You have no idea what this group means to me." The second said, "Happy Thanksgiving I'm grateful to be a part of your life and your work." The third said, "I'm so grateful you drank 5 glasses of wine and quit your corporate gig. Thanks! "
Charlie Brown said it right. The less you want, the more you love.
Yep. Thanks.