Good Monday morning! As you read I am flying to the west coast for a week in San Francisco and San Jose. Today I'm taking the Dreamliner jet first class. After nearly 10 years of accumulating miles and points, I decided to splurge and purchase my seats with my mileage. Sitting in first class is a way of life. The seats are larger. You have more room to relax and the entertainment options are plentiful!
I have a secret. First class is about much more to me than the obvious perks.
Admittedly I got spoiled sitting in the front of plane for years. I would hear it a lot from friends. "Must be difficult." It was.
At one point in my career I was traveling almost 100%. I came to cope with how to pack and travel in some of the busiest airports in the world. Eating out a ton and being gone isn't as great as you think it would be, but traveling the world had its bonuses. I got to explore new places and do neat things.
I've met some interesting people on airplanes and had some experiences I'll never forget. On a trip to the far east I once was upgraded to International First Class on Cathay Pacific Airlines. The only blonde American woman, I was surrounded by silver foxes headed to business meetings in Asia. One of the men asked me if my husband or I (the gentlemen sitting next to me) might want to trade seats. I smiled and said, "No, I quite like my seat." Hesitating I continued, "And he's not my husband. I'm on my way to Singapore for a business meeting." It was nice being the only woman in first and I deserved sitting in that seat as much as the other 5 surrounding me.
First Class is relative.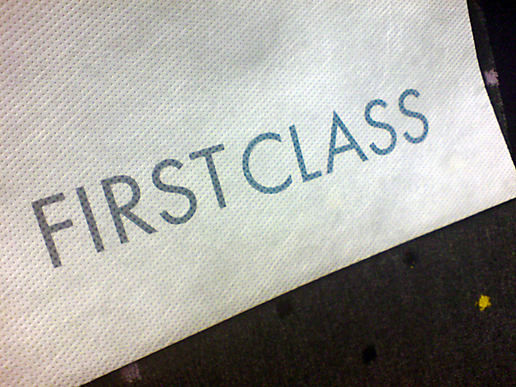 I came to appreciate a new kind of first class when I began flying offshore on helicopters to do safety training on platforms. All of the assets in the Gulf of Mexico were older so much of the female quarters were modified living spaces. I remember on one platform we had a very large bathroom - the kind you would expect women to occupy. It was nice as I would often share with one or two others aboard. For all of the hoopla I heard about going offshore and being treated unfairly by the dudes, I felt like I was treated with first class hospitality. One time I stayed on a platform unoccupied by the PIC (Person in Charge). His room were the female quarters. It was also 3X the size of the other living spaces and the bed was a queen.
First Class is more about the people you choose to "fly with".
I then got off planes and started working in offices again. I traded my steel toed boots for heels and pencil skirts. I came to appreciate the company I kept and surrounded myself with. I spent a lot of time working with what I considered were first class people. In the oil business you can find a lot of insanely talented people: men and women. At my last job I was surrounded by an American astronaut, a career oil guy, and several active or former senior ranking military officials.
So I'd take good people over good seats any day. Who cares about the "box" you're in if you can't enjoy it by learning and working from first class people?
When you have the chance, upgrade your seat and choose the best people to work with.
Life's too short to work in coach.
When have you been able to work with first class people? What was that like?
(Happy Monday - see you on the beach!)