A big hello to all of you here at Pace by Katie Mehnert! I am honored to be here sharing, with you, a topic that is near and dear to my heart....5 tips to find your way.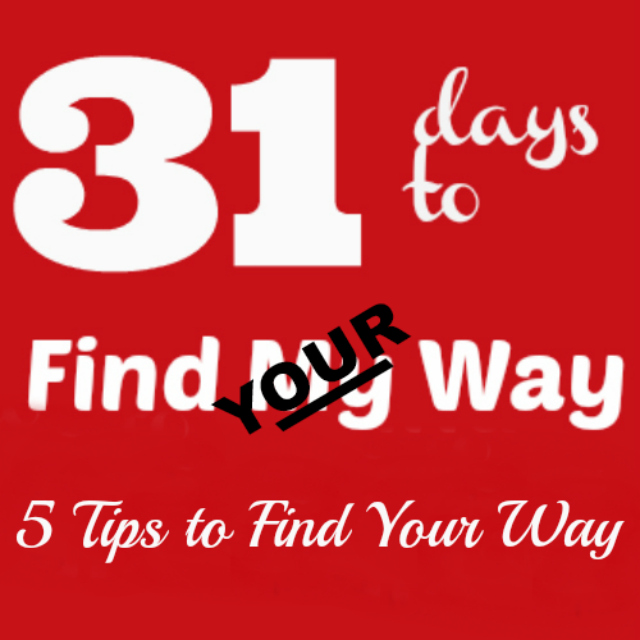 But before I start, let me introduce myself. I am Denise from Denise Designed.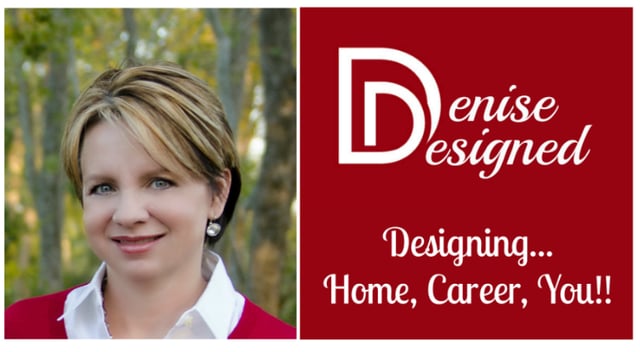 I started blogging almost a year ago with a focus on Designing…Home, Career and You! My posts include anything from DIY Projects, Crafts, and topics to include Blogging, Career and Self Improvement.
Today I am going to share with you about how I spent 31 Days To Find My Way and 5 Tips to help you start your own journey.
Why did I choose 31 Days as a topic? Don't get me wrong...I am creative...but not that creative! :) Actually...I just would have never thought about posting something so personal on my own. I had some friends who were participating in the challenge and felt compelled to do the same.
So...the Nester at the Nesting Place offers that challenge to anyone wanting to participate in 31 Days annually. The topic for 31 Days can be anything under a category, but the challenge is to write every day about that one topic. There are categories such as House and Home, Simplicity and Organizing, Family Life and more.
My topic, 31 Days to Find My Way, fell under Personal Endeavors.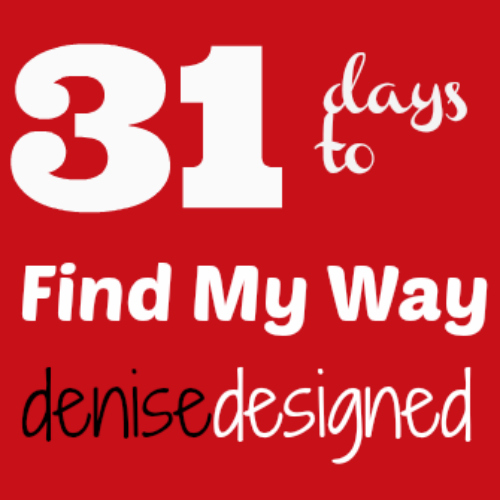 I chose To Find My Way because I was at a point in my life in which I didn't know what my next step needed to be. While I was honest with myself and could tell anyone my strengths and weaknesses, I could not get deep...didn't know the reason for those strengths and weaknesses.
There were days that I cried, days that I laughed and days that I wondered why the heck I was doing this!???! But I came out on the other end a better person. Not because I magically Found My Way, but because I learned more about myself so that I could continue the journey of Finding My Way as it is a life long process, in my opinion.
How about you? Are you:
1. Bored in your job?
2. Feeling like you have to map to what everyone expects of you?
3. Feeling stifled at all?
4. Easily angered or stressed quite frequently?
5. Wondering if you are making the right decisions?
Maybe it's because you're tired, doing too much or maybe it's just that you're not in the spot you want to be in right now.
For me, while I am good at and liked my traditional daytime sales career, it became boring and I felt over-stressed. I had also started blogging and felt alone in the non-traditional nighttime career with no support. I was over-worked, over-stressed, worried about what others thought, didn't really know what I was great at, struggling with balance, etc.
I could answer YES to all of the questions above!
How about you?
So if you can answer YES and are ready to start Finding Your Way, then here are 5 Tips that you should follow!
1. Get Ready to be HONEST with yourself...hold nothing back.
If you're not honest, and I mean really honest, then you lose the value of the challenge. So put those big girl panties (or big boy underoos) on and dig deep. Uncover the positives and negatives about yourself. Challenge yourself to improve the negatives (even if just one or the most important ones) and be confident in the positives.
2. Understand and recognize that you are not perfect.
This one was particularly hard for me because I gave off this perception that everything was always good and right in my world. I didn't want people to truly know the struggles that I faced. You are not perfect and no one has to think that. Besides...being perfect or making others believe that everything is always peachy creates a very lonely world. So repeat after me...I am not perfect!!!! Read more about how I came to recognize that I am not Perfect.
3. Ask others for help.
You need to truly hear how others really perceive you. You also need to hear some good honest feedback. This one was easy for me because I am so honest with myself that I knew what their responses would be and they were confirmed by all that participated. But...that also confirmed the areas that I could work on. It was good to get that feedback to help me prioritize. Ask your friends either by phone, email or a poll the tough questions. You can read my questions by CLICKING HERE!
4. Establish your life goals.
Establishing goals is definitely key. And I don't mean the, Pay my Bills on time type of goal, but those high-level ones that will help you map out your next steps. Creating my list of goals has never been a challenge for me, but making sure I didn't have too many has always be the challenge. Make sure you set realistic ones and not too many of them. Set yourself up for Success and not Failure. You can read more about Setting your Goals and Setting my Goals.
5. Get ready to take action.
Once you have been honest with yourself, you will need to take steps to make some changes or move in a different direction. And you have to be able to evaluate and re-evaluate throughout. I am constantly taking actions...daily to work on my goals and to improve some key areas in my life, career and personality. But I can tell you...it is fun and exciting every day!!
These 5 tips will help you get started. Stay tuned as I begin a Series that will get more granular...help you dig deeper. Subscribe to my blog to be notified when new Posts in this Series go live!