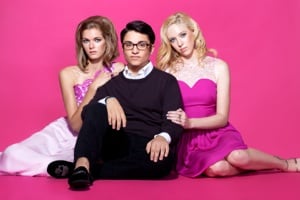 It was the first beautiful Sunday afternoon after weeks of cold weather when I rolled up on what I expected to be a retail shop. I didn't pay much attention to the address until my GPS was within yards from the destination. It was a beautiful Houston home on the corner lot and home to budding fashion designer and Episcopal High School junior, Amir Taghi.
When I arrived Amir's mother answered the door looking a little puzzled. After all, what is a 38-year old blonde doing looking for a 17-year old at 2:00 pm on a Sunday? I explained I had an appointment to interview Amir for this blog piece.
She went upstairs while I passed by the wine cellar with delight. The foyer and two rooms I had the chance to see were full of beautiful artwork. Forget the traditional dress shop, this stunning home, was absolutely the perfect place to start a designer fashion business. Microsoft and Apple were born in California garages, so it made complete sense!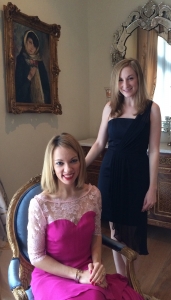 His mother reappeared and asked if I could wait a few minutes. Amir was playing golf with his friends. I smiled, and reminded myself of the days I was 17. What teenager isn't out with friends? And this teen – businessman at that – was already out and about, navigating the channels of deal-making. (I can't play golf. I'm much better at beverages...)
Amir arrived, phone in hand, impeccably dressed, stylish yet professional, and so did our models, both remarkable women writers from 2013, Ashley Blalock and Jillian Levin. He led us to a secluded area filled with books and inspiration that was just off the pool. It was there, that Amir shared with us about his passion around fashion.
I've read about you in the press. Why fashion?
Amir: "It calls to me. It's artistic. I like architecture, but in that you keep drawing the same thing over and over. In fashion, things change. You, know every season changes. I've been doing this for 3 years. My family has been in fashion retail. My interest in dressmaking started at 5 when I was in my grandfather's family boutique. Women's fashion is always changing. There's always a new trend or new fad and I like designing for the female form."
Apparently the ladies like it too. His classmates have him designing Cotillion and Prom dresses.
What are the biggest challenges and pressures?
Amir: "In all, the biggest challenge for me was making people think I'm serious about what I'm doing. When you're 15 or 16 no one thinks you're serious. When I got into Tootsies, that was a big goal I was able to achieve."
It's hard not to take Amir serious. Taghi's designs are classic, lively yet subtle, and full of character. I kept

thinking if this is what he's got at 17, imagine him at 37?!
Who are you role models?
Amir: "I have a lot of role models and mentors, both male and female. My first role model is Noelle Sakowitz. She's been through the whole process of fashion. And…well, it was pretty awesome working with Oscar de la Renta. He gave me a lot of advice. He told me to be myself and I would get somewhere."
His parents have been really supportive of his dream, and the teenager tells me he does his own bookkeeping. Wow, I can't balance a checkbook and gave up on that years ago!
Amir: "I deal with purchasing fabrics, pricing and selling the clothes. I don't have money for rent. I'm lucky my parents are supportive of me."
When Amir isn't designing fashion or dreaming of London, Paris or New York, he's still thinking about it. We got to some less serious questions, and he still managed to talk fashion!
If you didn't have to go to school, how would you be spending your time?
Amir: "I enjoy myself and like to spend time with friends, indulge in good food, and I appreciate nice things. Because, nice things inspire me. My time is split between school and my fashion. I'm creating a smaller collection but if I had more time I'd focus on building a bigger collection. Focus creates your best product."
Amir takes several months to develop his collections. From concept to delivery, it takes 6-8 weeks for a given dress. He's also teamed up with another Houston designer, David Peck, to manufacture his line locally 'MADE IN HOUSTON', and I get to visit there later today to take measurements for a dress Amir is designing me for the Lights Camera Action's 2nd Annual International Mother's Day Celebration at Neiman Marcus in May.
One day, not too long from now, Ally's going to be in Saks Fifth Avenue or Neiman's begging me to buy one his dresses.
And, I can say I knew him when …
Amir Taghi will have a show of his Fall/Winter collection on May 1, 2014 at the Deborah Colton Gallery. His speciality is designer dresses custom fit to your shape and size. You can visit him online at www.amirtaghi.com