It is the fearful word of CHANGE that makes so many people shiver in their shoes at the mere thought. So many people live day to day in fear of change. Author Maya Angelou says it so beautifully: "We delight in the beauty of the butterfly, but rarely admit the changes it has gone through to achieve that beauty."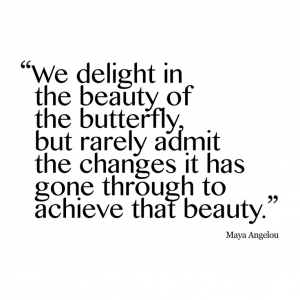 MY DREAM JOB
In 2008, I was living my dream. I had finally graduated from college after working full-time, going to school part-time, getting engaged, planning my wedding, getting marri
ed and then having my first child. After a few crazy years I finally got a job in the field of work that I had dreamed of for so many years. I was on cloud nine, learning anything and everything I could possibly learn to get myself up to speed in a competitive market.
Throughout the next couple years I continued to enjoy my work thoroughly. I enjoyed interacting with my clients and enjoyed delivering projects. I loved championing stellar ideas and getting the praise and recognition I deserved. There was just one problem that kept popping up every once in a while… poor leadership and a failing organization.
TROUBLE IN PARADISE
In the third year the problems kept getting worse and worse. I asked for my first raise and was outright rejected. I was helping manage and run a substantial amount of work. I got pressured to take on more work and my benefits were reduced. The organization was clearly hurting financially.
Sound familiar?
My wheels really started turning and my thought of leaving got more serious when I was asked to do things that didn't seem right. It was then I got my resume ready. After I started connecting with people and letting them know that I was "looking" I had clients helping me with my next step! .
But like anything else, changes require choices.
MY OPTIONS
So I thought about it. I could …
Do nothing. Stay in the career doing what I loved, working for someone else who didn't share the same values as I do and not get paid nearly what I was worth,
Go independent, make what I am worth, but pay astronomical taxes and live with the uncertainty of not knowing where or when my next gig would be, or
Take a new direction on my career not doing what I love but making closer to what I am worth with amazing benefits.
HARD DECISIONS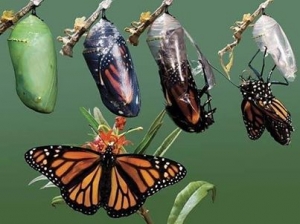 I prayed hard, consulted and took the plunge. I turned in my resignation without having another job! I had decided that if I didn't get a job I wanted, I would go independent and do contract work. The day before my last day, I got called in for an interview. The next day I got a phone call from the recruiter with a good offer! I would be making closer to what I was worth. The downside, I wasn't going to be doing the kind of work I loved.
But it's like anything...change...pace it one bite at a time.
TRUST AND BELIEF IN MYSELF
For once in my life, I had trust and faith in me. The organization I was working for recently filed bankruptcy and severed all of the employees right before the holidays. I am happy with my decision and I'm working to get back into doing the work I love and working for a company I love.
Katie blogs here about letting things go, believing in yourself, and pacing your life. What change have you weighed in the past? How are you pacing it? Are you enjoying the journey you're taking to becoming the next version of you?
Editors Note: Letty believed in herself and she became the next step in her transformation. Believe and you will become. Because when good women leave, amazing things happen. Tune in tomorrow where we will tackle why women don't ask for help...