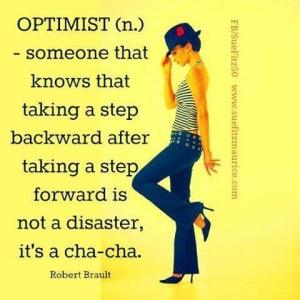 Well, it's Friday. You made it to the finish line. The first week back at the grind. You survived the big "weather week" where the Polar Vortex overtook the media and hell ALMOST froze over.
So. How was it? (Besides icy cold.)
Did you manage to get enough email that it's time for another vacation?
For those of you who have resolutions, are you keeping to them?
I saw this on Facebook this week. I'm going to let you in on a little secret ... it's called the Cha-Cha.
What is the Cha-Cha? I recently sat down to discuss the Cha-Cha with my friends at MomCom in a blog interview.

The Cha-Cha is just pacing, reincarnated. It's optimism. It's about believing in something great: you! Actually, the Cha-Cha is like running the marathon. Yes, I just called you a marathon runner. Now get up off that couch or away from that computer and stand tall! Wait...don't run yet, my blog post isn't finished.. :)
Seriously...when I run a marathon ... it's not a competition against other people. It's about doing my own personal best. It's actually a competition I have with myself.... to learn, to grow, to exceed, to go farther. And... sometimes that means taking steps forward and sometimes that's moving backwards. Have you ever had to move backwards to get forward again? Sure you have...you pull out of your garage every day right?
Next weekend I will actually run/walk the Houston Half Marathon. I'm not well-trained but I'm going to cha-cha.
In the cha-cha...we move front to back and side to side. The key is pace and optimism. And ...that's what this little blog in this corner of the earth is all about.
I'm so glad you have joined me in 2014 to do the cha-cha..to pace. Yep... and by MY definition, I just signed you up for a marathon too.
Now get off that couch or away from that desk. I wanna hear (or see) your version of the cha-cha! Talk to me ...
Happy Friday.