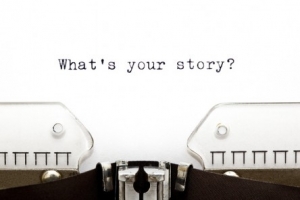 I had a last-minute lunch yesterday with my friend, Kim. She's truly a remarkable woman. We are both moms, wives and corporate gals trying to find our way in this overstressed, oversubscribed world. Both of us are Type A women who love learning, life and laughing. We like plans, structure, and making order out of chaos. Her story tomorrow is going to keep you laughing. It's real, honest, straight, and as politically incorrect as they come. The point is ... it's good.
We all have a story. Do you know how to tell a good one from a bad one?
Good stories have a purpose. Stories inform but they also give us things to think about or inspire us take meaningful action.
Stories have 3 critical P components: a plot, person or people involved, and a point.
Storytelling is an art and a very important one if you want to be a leader of anything ... the world, your household, your office, your firm, etc.
The fact is we've been telling stories for years. From the ancient days by the fire to newspaper, television, radio to today's many social media options. It doesn't take much but it does take practice. The more you do it, the better you become!
I love using stories in the work I do in adult learning and development. I like to get the guys (and gals) on the rigs and in plants to talk about their personal lives. It becomes a very powerful tool when I can get them to connect these stories to their work and the need to work safely and to look out for each other. When people open up and talk shop, and get real, the learning happens.
That's why I love this blog. It's why I love to write. It's also why I encourage other women to step out and tell their own stories through the Remarkable Woman Series.
What's your story? I really want to here it. Drop me a line and tell me more about it or comment below! What stories do you want to hear in 2014? The blog feedback survey closes this week, so let me know what you think!