Ah, road trips. After becoming accustomed to flying everywhere, it's a nice change of scenery. However, tis the season to become weary and wonder "are we there yet?"
We took a hybrid approach to our Thanksgiving holiday. Mark and I, our 52 pound Golden Doodle Maddie and our nearly 3 year old unpredictable precocious toddler, Ally drove to Atlanta to visit Nana. We piled into the Jeep and took two days to break up the drive, stopping in Gulf Shores to spend the night and to check out this beautiful beach.

We had a nice Turkey Day. I ran the Thanksgiving Day 5K Turkey Trot in 26 degree weather. I couldn't feel my hands or toes! Ally was going to jog the Gravy Gallop (50 yard dash) however we decided to keep her warm in the car. Later that day, we indulged in Truducken (Turkey, Duck and Chicken) with Cajun stuffing and the usual sides. Later after our naps, Nana spoiled Ally with a small cake to celebrate her birthday early. All in all it was a fun (fattening) holiday!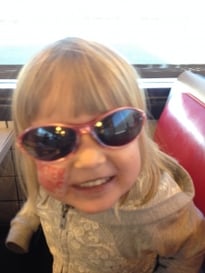 On Friday, Mark travelled back to Houston for 13 hours with Maddie. Ally and I flew home. I've got to hand it to her. Ally was well-behaved on both sides of the trip. She rarely got restless and was a joy to travel with. The holidays are notorious for being 'crazy' and so is travel. I have the three things to be thankful for that kept the peace and made the trip easy...
Digital Technology. What did we do before IDevices and the AppStore? I got some good Christmas shopping and errands done from my trusty MacAir. Thank-you Steve Jobs and Walk Disney! Ally was well entertained with the litany of preschool applications and movies on the IPAD and Mark enjoyed ITunes Radio.
Free Stuff. This year I finally had the chance to use my hotel and airline points I've accumulated from intensive global travel. Our hotel in Gulf Shores and airline flights home were next to nothing.
Pet Paradise for Maddie. Our best decision was letting Maddie join the rank and file at a pet kennel in Mobile. She's a sweet dog but oh my it would have been a difficult night in Gulf Shores had we let her stay with us.
We must have done something right, this year because never once did I hear, "are we there yet?"
How did you 'fare'? Did you indulge? Save time for a little shopping? Have any crazy travel trips or saving graces?
Buckle up my friends, the holidays are in full swing! Yes, we are there!