Computers, the internet, social media and the explosion of information has changed our world forever. But like a junk drawer that collects dust, our inboxes, hard drives, clouds, and ultimately our minds become a haven for electronic clutter. I wonder how many brain cells all of that clutter kills?!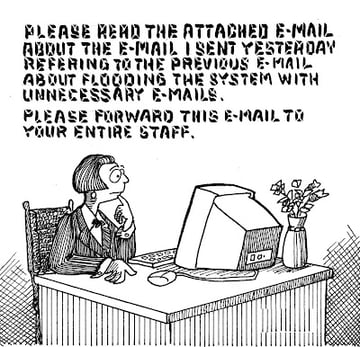 Do you remember how peaceful the world was without nagging pop-ups, reminders, pings, and beeps?
In my quest to drive a simpler life, I've search for ways to reduce the clutter I have in my electronic life. Here are a few recent examples ...
This summer

GMAIL began categorizing my email for me

. I didn't ask for it but it was a welcomed new feature that sorts by 3 buckets: "primary", "social" and "promotions". It's cut my email time

in half.

Now that's, productivity!
I joined

Unroll.me

, a clever service that helps you get rid of unwanted newsletter email. It informed me I had 249 (?!) subscriptions in my inbox. After purging 200 I felt a huge sense of relief. Unroll.me then takes your remaining subscriptions and scrapes them into one email it sends you daily.
And my personal favorite at work?

No more PowerPoint

unless absolutely necessary. You want me? Engage and have a real conversation! Or shake it up and use something more engaging. While it's got everyone up in arms at work, I don't think I've been this excited in a while ... perhaps since U2 last toured.
Have any great electronic organization tips and tricks?