So, I launched 2 weeks ago.
I am pretty amazed at the response to Pink Petro and we've only started. We've welcomed new members worldwide between the USA, Canada, The UK, Netherlands, Italy, Singapore, Thailand, China, and just today, Dubai. Our members are petroleum engineers, geologists, field services, commercial leaders, IT, sales, marketing, lawyers, consultants, HR, and the like. We've also been a resource to those in transition. We have students, educators, entrepreneurs, managers, executives and retirees. And, the best part? Coaches, mentors, and mentees are already connecting offline.
Who would have thought a Russian corrosion engineer, British executive coach and an American energy expat would come together? Well they did, and Pink Petro made this happen and just within our first 2 weeks. This photo posted yesterday in our community warmed my heart knowing we're having an impact already.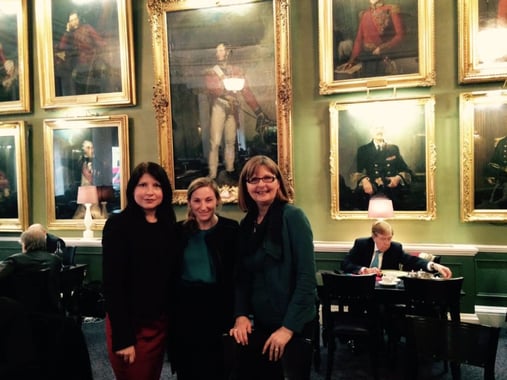 Oh, AND, we have MEN!
Check out the press. But good news and results aside, I've got some real news for you.
The rumor is true. Having your own thing is hard.
It's the hardest job I've ever had in my life. It's the longest marathon I'll ever run. Forget 26 miles it's like 19029310 miles. You make the decisions. You take the calls. You spend the money. You get the praise. You also get to hear the moaning and whining. YOU are it.
Oh, but owning it is so satisfying.
You see the other side of the rainbow has this amazing pot of gold that has nothing to do with status or title.
It's a gold "mine". And this is a very special pot of gold that comes with the good and the bad pieces.
"The Goods"
Mine means mine. There is no hiding behind dotted relationships mountains of bureaucracy, processes or finger-pointing when things go crazy. In a world where we control very little other than how we respond to what's thrown at us, the concept of ownership is exciting. Owning something means you see the tangible and know it's yours to shape and scale.
Mine means I create and drive the strategy.
Mine means I own the success and the failures.
Mine means it's on me.
And while "mine" means a lot, the "how" I execute is everything. And mine can be a lonely place. And "mine" sounds so "me me me", but when you are the CEO, it's yours. You have no choice than to own it, stand by it and proudly watch it blossom.
The other side of the rainbow is also full of challenges.
"The Mehs"
Challenge #1: Critics and Know it Alls. I've written tons of this topic. When you put yourself out there it doesn't matter how noble or good your mission, the world is going to respond in different ways. We live in a world that sadly is full of people who can't own something so their (only) strategy is to criticize what you've created. There's no convincing a KIA (Know it All). Smile and thank them for their intelligence and move on. Remember when you have 99% of the world covered, let the 1% go. They are SO not worth the energy. This brings me to the next topic.
Challenge #2: Energy. If you want to make it, you've got to know which races to run and which to put off. You have to know who is going to give you energy and know what negative energy to dismiss. Entrepreneurship is indeed another marathon. Pain will come at different times but you have to know what fills your cup so you have energy to use on the things that need you and know what things (and people) to eliminate. Energy levels are everything Reserve and train for the long but take care of you. Sleep is a good thing.
Challenge #3: Mine is great but pace is everything. Every leader I've consulted has told me to keep my business close to the vest as long as I can but making a difference and driving crazy amazing results takes investment. I have poured every ounce of cash I have into Pink Petro, but the capital and sweat you need to run, scale and move quickly is intense. You have to be prepared to know what you are willing to give, get, give away and trade-off. It's all about pace.
Two weeks into it and I am blessed to be here. A year ago cancer reminded me we are on borrowed time. It saved me from fearing the worst and encouraged me to leap to be my best and to find my way to over the rainbow to a pot of bittersweet gold.
Stay tuned. I've only just started.
(I head to Boston Sunday and Monday to take the stage at the C-Suite conference to meet one of my mentors and cheerleaders, CEO of Jive Software (NASDAQ: JIVE), Elisa Steele who dared to jump and back Pink Petro along with Shell and Halliburton. I'll be posting on social and hope to have a recap here. Thanks for being a part of this journey. And if you are in the energy sector, please join us. We'd love to have you! )
PS - If you were a part of the beta, a friend who let me cry on your shoulder, my biggest thanks to you for your help! We wouldn't be here without you.