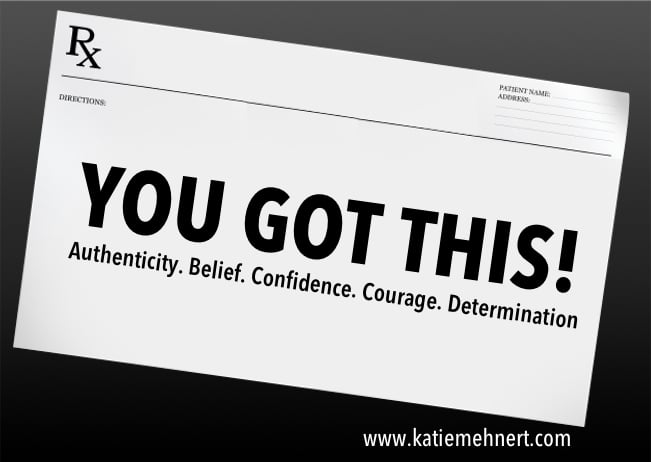 Three words. Three magical words.
You got this!
But how do you know "you got this?"
You know when you are consistently sourcing, refueling, recharging and boosting the most important nutrients you need to be successful. Here are my top 4.
Vitamin A is full of authenticity. If you're not your true self, who are you trying to be? Too often in life instead of being pure, we go for the placebo. And you know what the placebo gets you: nothing! Be okay with being yourself. Who else is qualified? Good sources of A come from doing the things you love most. If you don't have a list, make one.
Vitamin B begins with the belief you can achieve. Belief is a mindset. It's not something given to you. It's something you give to yourself. A good source of B comes from surrounding yourself with the right people. Life's too short so be terribly picky.
Vitamin C is equal parts confidence and courage. Work, life and the relationships in between can bring situations that require tough decisions. Sometimes you have to pick an unpopular route. Having confidence and courage along with a little Vitamin A and B will give you the strength to do what's right and overcome. Like A and B, no one gives it to you. You've got to give it to yourself.
Vitamin D is about determination. We live in a world that gives up too easily, expects convenience, and values vanity. Life is hard but anything worth it requires focus and determination to see things through. It might mean failure and falling flat on your face. But when you want to give up, determination means you just keep going.
Take a moment and reflect. Are you nurturing yourself enough? What are you doing to get the right balance of vitamins and nutrients? If you need anymore convincing, call me, my friend. I'll be happy to tell you loud and proud ...
[Tweet "You Got This #life #authenticity #belief #courage #confidence #determination"]