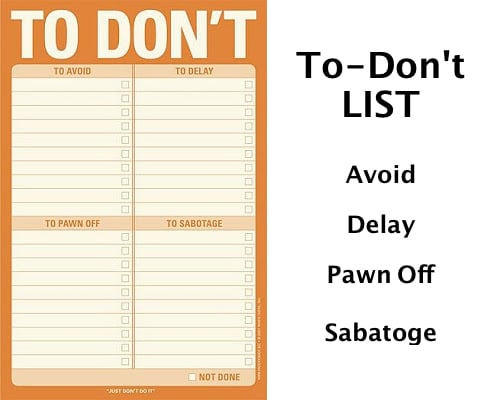 Life is full. It's noisy, busy, and messy. We get wrapped up so much in so many things that we forget what's important.
So, what's most important? What has to be done before something else can get done? Before you stress out and start making lists, I'm going to suggest something rather unconventional.
Make a "to-don't" list.
What's that, you ask? It's a way to prioritize the relationships and things you currently have on your plate to manage. Plain and simple, we need to cut out the things and people who just don't matter.
So, make a to-don't list. This will quickly help you prioritize over what needs immediate attention. You'll find there are more important things that need you than the things that can wait or can be eliminated. To-dont's are those people or things that can wait or just shouldn't be on the list. Be honest with yourself and your needs, your family and others. Do you need to do the things on that list? What value do they bring to your work and life? If it's very little, then start eliminating things!
Make a "for me" list.
The second secret to getting ahead is to knowing your own personal needs and meeting them. When you are "full", you're able to support others. For me I need to take care of how I eat, sleep, and exercise. If I do these things I feel better and I'm able my best. So I make a "for-me" list. These are things you need to do for yourself, regularly to keep yourself on top of your game.
Now, this is all great advice but the real science and strategy is how you implement it. If you are successful at home, try it at work. Influence your boss, peers and co-workers to think about how to create to-don't lists in your teams. Oh imagine all of the wasted time in unproductive meetings we'd save?! The more you begin to rank the value of things the more easily it will be to assess the importance of the work. The "to-don't" and "for-me" lists can get you on the path to success in both and work and life.
And seriously, boundaries are a good thing!
So, dare I ask. What are you NOT going to do today for someone else and what are you doing to do MORE of for yourself?