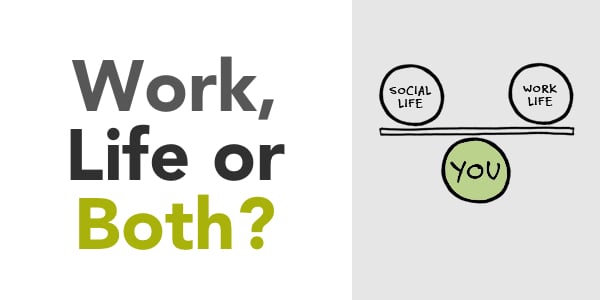 Happy Friday! Today's post is a little late in the making, but I decided to post it later specifically to honor of all the balance you're about to have after a long week at work.
There's a lot of talk out there these days about work, life and busyness.
We're living in some interesting times. Jen Holmes, and a previous remarkable writer who recently wrote "What They Don't Tell You" is doing some research for her Master's Thesis and looking to conduct some interviews for a study as detailed below. Her aim is to study work life balance for women in oil and gas/energy. This is not limited to people inside companies but also includes people supporting oil and gas/energy companies.
Hang on guys, before I lose you... I have a request of you!
For all of my male readers, I'd appreciate your sharing this with the women you know in energy. Perhaps you have a special woman in your life, younger or older, who wants into industry or know of people who can benefit from this study. I know we all suffer from work life balance, but it's interesting that Jen has chosen a specific focus on the oil and gas/energy industry as it's a very international, complex, technical, complicated environment. I'm fascinated to see how this turns out!
Here are the details...
If you are interested or know of folks who might be, please share this post and connect with Jennifer /jenholmes@me.com ASAP.
Purpose of study: To investigate how female oil and gas industry workers feel about their work/life balance, if having children (or not) effects their work/life balance, why they may feel that their industry prohibits or enables a sound work/life balance and to get a general feel on how they feel one should achieve a work/life balance. It is not my intention to pin point your organisations approach to work/life balance, but more how YOU feel the oil and gas industry approaches it.
Target audience: Female oil and gas industry workers. Any age. Any marital/family status. Any company and any part of the world.
Interview type: 10-30 minutes (depending on how much the participant wishes to disclose) semi-structured interview via Skype. If the participant does not have Skype, a temporary log in will be provided.
Why is this being done: There is very little literature that focuses solely upon females in the oil and gas industry. Being seen as a previously male dominated role, Jen is interested to find out how women cope with a notoriously demanding workplace. There are also different stereotypes when it comes to females in the workplace… Do women feel as though they have to sacrifice time at work or at home for their families? Do women who don't have children feel they miss out on the life side of the balance?
Data Protection: At no point will your name, age, location, company details or any other potentially identifiable data be included in the research. She is only interested in the general feel of work/life balance in the industry. The survey is conducted under the Guidelines of the British Psychological Society and your anonymity is 100% guaranteed. If at any time you wish to withdraw your submission then this can be done without hesitation.
Interested in participating, connecting others or for the results in general?
Connect with Jennifer here/jenholmes@me.com
Thanks for helping a young woman in her quest to research, explore and unearth a little bit of the why and what behind work, life or both.