I retired last week (at 38).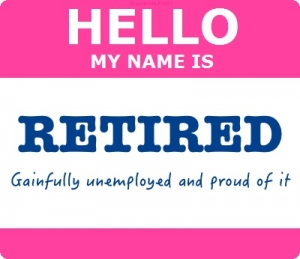 Okay, not really but I did. I'm on a sabbatical. In fact, I've kinda been on one a while. Just like I didn't plan the layoffs or getting fired so young in my career, I didn't think I'd get to say I pre-retired at 38. Most people get nervous when they hear "time off." Not me, I've embraced it! We must make the most of sabbaticals and use the time strategically. So I've taken this time and courageously made it into something.
Plain and simple we all need real time off to refuel and recharge the body. Two-day girls weekends, trips to the lake house (or wherever you go), and a week here and there just don't cut it. In fact I find them more rushed than work. Come on, friend, you know what I mean... you are racing a 5K sprint to get out of the building, having not packed, and then are thinking about work the entire time and dreading the day you have to come back.
We simply don't take the (REAL) time we need to focus on ourselves.
As a marathon runner, my periods in between races are times I use to take on new exercises, routines or try on nutrition regimes. And yes, to pig out a little. I love my pizza, cupcakes, cake balls, wine and anything with carbs and sugar. Time off is just that. Time off. Just like my running, we all need to finds ways to strategically enhance ourselves by cleaning the mind and doing work that matters so our next marathon is better.
My bigger secret? I've been having an affair ...
with myself.
Yes. I've been pouring time and investment into the best stock I own: ME. Since last summer. I've been writing, speaking, developing my skills, connecting with people (including many of you), and fueling my mind and thoughts with knowledge capital. I've written loads about the epidemic we have today of busyness. Busyness is a disease. And it's sucking the life out of everyone. But not me. I'm choosing to invest my time with the people and work that matter most.
I know what you are thinking ...
I'd love a sabbatical. Where can I get one?
You create them. (What?) Yes, you choose. Actually I watched very closely and observed others who retired early and took sabbaticals and made a plan by watching all of them. (Some of you readers who are retired gave me great knowledge. Thank-you.) Remember... if you work hard enough, whatever your goal, you'll get it because

you will create it

. Plain and simple. Don't over complicate it.

LET IT GO.
What about making money? How will I eat? live?
So you've been on a sabbatical for nearly a year. How did you manage that?
I took stock. Life is a marathon. So is work. We turn up to our J-O-Bs and put way too much stock into them rather than reserving energy. In the marathon if you're going to go 26.2 you need energy. Maybe you dial it back a little. Take stock on the non value added activities you have going. Perhaps shed the extra weight of ineffective relationships you've been carrying around.
I starting thinking more and stopped responding. You know what our problem is in the world? We react. We respond. We think we need the last laugh or word. I started thinking about my life more and more, my work less, and the people I'm putting in my village the most. I thought about the 26.2 miles and not the volatile unsustainable sprints. Then I thought some more. I lived in my head a ton. And just when I thought I would stop thinking, I began writing a ton. This is how this blog has evolved since 2009.
It feels great to move on.
People who know me well when I announced my "retirement" last week know that this is just one long run I've taken. It's been one I've savored...more time with my child, my husband and more "ME" time. I've taken on some remarkable projects and met remarkable people. This weekend I will be launching my new website so the next time we "meet", it will be on the other side of the rainbow.
Thanks for being a part of my sabbatical.
This post is a part of the ABC Series.