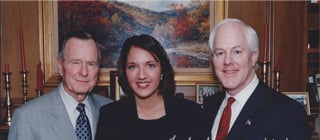 At 34 I was a working mom, thrilled with my career as a republican political fundraiser working with candidates and elected officials from all over the country. I thought I had it figured out; I had a good balance of work and family, a happy marriage and a great network.
On the morning of my 35th birthday I woke up in shock.
I was days away from a cross-country move. My husband's military service and our relocation would require me to leave my career at the end of that year. I was pregnant with my second child, and my toddler son had just been diagnosed with Autism. Looking back that entire next year was a very sad time.
I was grieving, and it was dark.
I found my usual happy and optimistic self could not stop crying. I cried in the car, I buried my face in my towel at the gym and cried in the middle of a class. I choked back tears while on work calls with colleagues and potential donors. I could not stop the sadness. I thought it would never end.
As we settled into our new home in Virginia, I laid awake night after night unable to sleep. I would sit in the dark with my iPad, desperately looking for answers for my son, recommended treatments, worst case and best case scenarios. During the day I would take him for long walks, watch him play with the garden hose and wonder if I would ever hear him call me "mom".
It was time to jump head first into my new job of advocating for my son.
We dove into three different types of therapy, one of which requires me to drive him an hour or more each way daily. While he was at therapy (I was still pregnant at the time) I would go to a nearby park for long walks, and I would pray. I prayed for peace, patience, understanding, and most of all for the Grace it would require to be the best possible parent for my son. As the days past I was still just as sad, but I felt better knowing I was doing as much as I could. I was arming myself with knowledge, and tackling this new world of special needs parenting.
I asked "What kind of mom do you want to be for your kids?"
I knew it was time to move past my grief and once again choose joy.
Soon after his daily therapy started my daughter was born; healthy and beautiful, an amazing gift. I was thrilled with my baby girl, but I still couldn't shake the sadness. I hated that I was always depressed, and I saw what it was doing to my husband who was always tip toeing around my tears not knowing what else to say. Thankfully, he was much more adept at coping with and accepting of our son's diagnosis.
I started running again.
Running has always been an amazing outlet for me, and this time was no different. I found with each day and each mile, I felt better and better. Week after week I became stronger and stronger. I started to find my smile again and I began to rejoin the world around me.
I started to make new friends and reconnect with old ones and realized that there are some truly incredible women who have gone through so much pain and come out the other side stronger than ever. I was not alone in this journey.
Motherhood is the hardest job and all of us who take it on face major struggles at one point or another. Autism would mean we would not have the childhood I had envisioned for our son, but it did not mean our lives would be without joy. In fact, he is one of the most joyful children I know. He has a special light in his eyes that draws everyone he meets into his world.
I was given a new purpose.
The perfectly planned life I had all predetermined for us took an unexpected turn, but here we are once again moving forward. Now, I am a far cry from that woman in a suit and heels running through airports, worried about election cycles and quarterly fundraising deadlines (although I do miss her and all that she worked to accomplish).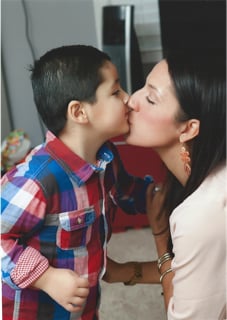 I am exactly where I am supposed to be at this moment, mothering my children and taking care of my family. Seasons of life come and go, and I realize that in the blink of an eye this phase will be over and it will be time to discover what challenges are next.
It is a new day. Time heals grief. I am blessed with new perspective of what is important to me.
It has been two years this month since his diagnosis. He is talking, reading, spelling, thriving in our family and his school, but most importantly he is teaching me every single day to slow down, (pace) and appreciate the smallest of gifts.
Each night as I tuck him in he says "I want sleepy" and he pats the space next to him. Conversation is still new to him, and this is his way of asking me to lay down with him for a few minutes. After I lay down I lean in close and he pulls my chin to his face and gives me a kiss. No matter how hard each day is, that moment makes everything worth it.
That little moment is still new to me, it still takes my breath away, and each night I silently promise I will never take his voice for granted.
The prize is always worth the rocky ride...
[youtube id="djvIWPJ_zXc" width="600" height="350"]