I don't watch the Oscars.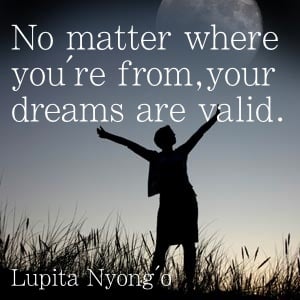 As a mom, wife, runner, and busy career gal, I rarely get to the movies and have zero time for TV. If it isn't Disney I get to see sports with my husband and Sprout with my daughter. I did happen to bring my daughter Ally to see Frozen (twice), however I was unfamiliar with the nominations, movies, stars, and the hoopla that typically ensues around such stuff.
Last night was different. I was inspired. For the first time, I was really engaged. I laughed and I even shed a few (happy) tears.
The best moment of the night? Lupita Nyong'o won the Oscar for Supporting Actress for her role in 12 Years a Slave and said,
"When I look down at this golden statue, may it remind me and every child, no matter where you're from, your dreams are valid."
Wow!
That quote immediately took to the internet. I posted it on my Facebook page. It created a spark. Read the thread here.
Two of my friends told stories of their own dreams...and how they made those dreams come true.
Lou Ann Nolan Katie, my daughter had dreams of going to Yale for her masters. She applied and said "Mom I don't want to spend the rest of my life not knowing." So we charged the application fee on my charge card having no clue how we would pay for it if she made it. (I told her I would sell everything and get three jobs if she made it.) Well...not only did she make it but they offered her a full scholarship. She is now a grad student at Yale School of Drama living her dream. What if I hadn't believed in her to help pay for the application fee? What if she hadn't asked? Yes, dreams come true. And yes, I prayed. But it is up to us to believe and ask and do and work to make those dreams possible. So to all I say...believe.
Sarah Haider I remember my sister telling me, "We don't have the means to dream of America" when I aspired to come to the US from Pakistan and had to work a year just to pay for application fees for MS. I spent $50 on the application fee for MIT knowing fully well that I did not have the means to pay for an education there ($32,000/yr in 1992). I got admission to all 7 schools I applied to and a full fellowship at Rice University where I graduated from with a Master's degree in 1995. Oh that sister of mine, she is now a doctor in Indiana! Your dreams ARE VALID, no matter where you are from! Believe in the power of your dreams!
I was so engaged I created the above image and posted it to Facebook and Twitter.
And then...something magical happened. I found another dreamer...
Elizabeth South immediately favorited my tweet. Elizabeth is another dreamer. Her story reads... My name is Elizabeth South. Yes, that's South like the direction. I have big dreams with a big heart. I love my family, friends, my teaching job, and my songwriting/recording hobby. Nothing makes me happier than to write a song, record it, and make a music video. I write songs about love, faith, and life. I wish and pray I had a record label so I could afford to record more of all the music I want to. I wish I had an even bigger budget for music videos and my song recordings. I wish I had more ways to reach more people with my music, but for now I have to be content with where I am and hope for more doors to open in the future. And if not, I have to learn to be content knowing that I've used the voice and gift God gave me in greater ways than some will ever experience. And I need to realize the joy in that. I don't want to be done dreaming yet.
And wow, Elizabeth has a gorgeous voice. Hear her cover of Disney's Let it Go (my favorite song), here or watch it below.
[youtube id="Xo4HsA3T07U" width="600" height="350"]
Lupita engaged the world with these beautiful words.
She reminded us all that dreams are important.
We all have hopes and dreams for this life.
So what say, you Dreamer? What are yours my friend? Are you living the life you need to make them happen? I'd love to hear your stories! Tell me about the dreams you have, the ones you are working towards, and those that have come true.