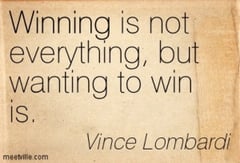 Author's note: I spent 35 years with a major oil company, starting as an engineer and retiring in 2009 as Vice President of Production Americas. In 2002, morale was low and our employees had adopted what I referred to as a "defeatist" attitude….that we could not succeed in achieving our business goals. For no other reason than to present a different view, I wrote the following piece to try and put some life in an organization that had incredible talent, but was otherwise beaten.
Rather than just send it to my employees, I sent it to the whole darn corporation on the morning of January 1, 2003. Here are my 7 attributes of winning.
Winning is about winning, it is not about "not losing".
I know this sounds like a riddle, but it is actually one of the most important points I want to make. In any sport, athletes can play to win or they can play to not lose. When players defend what they have, they can become conservative and may not be as able to see what they might accomplish. Their goal is simply to not lose. This may be a successful strategy in many cases if there is sufficient talent and the opponent is overmatched. But if something changes, like the weather or a misjudged competitor, this conservative approach can lead to defeat. Conversely, playing to win is wide open. Athletes do not feel bounded by the situation nor are they intimidated by the competition, no matter how fierce.
There is a classic example of this in professional football and if you are my age you would likely have seen it happen. It occurred in January 1969 at the Orange Bowl in Miami. Super Bowl III matched the powerful Baltimore Colts against the upstart New York Jets. The Colts came into the game 15-1 with quarterback Johnny Unitas and many other weapons. The Jets were viewed as a not-so-good team from a second-rate league, the AFL, and were led by a longhaired maverick quarterback named Joe Namath. Baltimore was a 19-point favorite to win the game and it looked like the NFL would easily retain its dominance in this, the third meeting of the two leagues for the championship.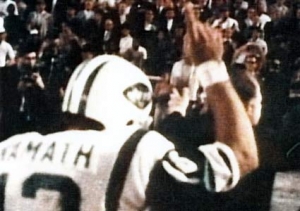 On Thursday night before the Super Bowl, Namath was presented the Player of the Year award, and in speaking to the audience he said, "We're going to win this game. I guarantee it!" Huh?? Yes, Joe Namath promised a win on Sunday. Baltimore knew they were the better team by a long measure and did not want to be the first NFL team to lose a Super Bowl. They played a solid but conservative game. The Jets, under Namath's play calling, attacked what few vulnerabilities the Colts had. They did not play like the underdogs they were thought to be, but rather played like the champions they would become. The New York Jets defeated the Baltimore Colts 16-7 in a game that was never close.
By 5:00 pm that January afternoon, Joe Namath trotted off the field with hand held high having made good on his promise.
This story is all about aspirations. Namath and the Jets aspired to the championship, saw no boundaries and did not feel they were beaten before they took the field. If we are to remain a great organization we must aspire to greatness. If we are to consistently deliver on what is expected of us we must have aspirations that are greater yet. Aspirations can enable us to think of possibilities. They can unlock creativity allowing us to challenge the boundaries. Aspirations are a bit beyond what we have a plan to accomplish, but it is not about having our heads in the clouds. In my opinion, aspirations are correctly set when most outcomes fall somewhere between what we had planned and promised and what we had aspired to. Sometimes aspirations will be met, and although often we will fall short, our overall results will be better for having stretched ourselves. We must deliver on our plan if we are to maintain our credibility and to compete for global resources. We cannot predict changing conditions and we could underestimate the competition. Seeing larger possibilities will give us headroom to deal with inevitable disappointments. Winners play to win.
Winning is about hard work.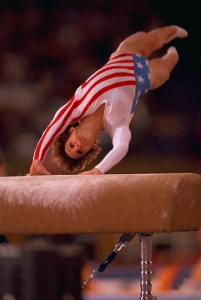 We've all seen examples of great athletic achievements and the underlying story of the hard work and determination that was required to build mind and body toward a particular goal. All successful athletes work hard, but some take it to a higher level to achieve the ultimate prize in their sport. A shining example of this is in women's gymnastics.
Inspired by the Romanian gymnast Nadia Comaneci and her gold medal performance in the 1976 Olympics, a young Mary Lou Retton pursued a dream to emulate that achievement. She trained long and hard for years with the aim of competing in the Olympics. In 1984, at the age of 16 she was selected for the U.S. women's team, but faced a set back when, only 6 weeks before the start of the Summer Games, she required knee surgery. The doctors told her she would not recuperate in time to compete.
Mary Lou proceeded with the surgery but rejected that prognosis. Following surgery, she completed in three weeks of rehabilitation what most patients take three months to accomplish. Mary Lou arrived in Los Angeles with the goal of being the first American woman ever to win an individual medal of any kind in Olympic gymnastics.
All she did was win five. Mary Lou Retton enjoyed the fruit of her years of hard work taking home two bronze, two silver and one gold medal. Her gold came in the "all-around" competition where she nailed a perfect 10.0 on the vault to win. Brilliant. In doing so, this 4-foot, 9-inch teenager captured the hearts of millions around the world.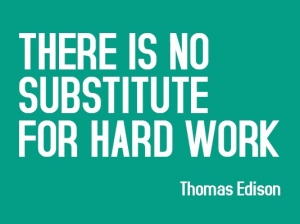 There is no substitute for hard work. BigCo is a great company because of the considerable efforts of our employees and those that have come before us. Successful efforts require hard work and determination, but this should not be at the expense of our families or our health. We should set for ourselves an expectation and a plan for balance in our lives. This means different things to each of us. To achieve this balance there is a shared responsibility between the company and us. We should expect that BigCo will do it's best to provide adequate resources and to continuously strive to filter non-value-added work. This, I assure you, is an ongoing struggle, and one that is taken seriously. Then there is the personal responsibility that we each have to prioritize the demands placed upon us and to eliminate wasted effort. Unfortunately, there is no silver bullet to accomplish this, so we must start with personal organization and use good judgment to set priorities if we are to carve out the time required to keep our lives in balance. Even if we do this well we can expect that our jobs will remain demanding because, as an organization, we are competing at the upper tier of a very demanding industry.
Prioritization isn't about not working hard; it's about working hard on the right things. Winners work hard.
Winning is about intensity.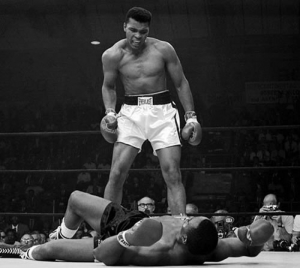 The sporting world is rich in stories of athletes with great intensity for their game. It is the characteristic most easily associated with champions. Intensity is not unbridled or pointless, but rather it is focused. It is extraordinary energy aimed at the achievement of a goal. I know of no better example of sporting intensity than that of a young boxer named Cassius Clay.
Born in Louisville, Kentucky in 1942, Clay won the light-heavyweight title at the 1960 summer Olympics. He turned professional shortly thereafter and caught the eye of the boxing world. His brash, arrogant style was admired by some and despised by others. Yet his ability and intensity in the ring could not be overlooked. In 1964 he landed a title bout with world heavyweight champion Sonny Liston. And although Liston was heavily favored to retain his title, someone forgot to tell that to Clay. With a punishing left jab, a thundering right and feet that could dance, the young Clay wore down his opponent in only seven rounds. Liston quit on his stool and did not answer the eighth round bell. A year later they met in a rematch and Cassius Clay, now known as Muhammad Ali, put the former champ on the canvas in the first round. He was ever intense as he danced about the fallen Liston.
Our business demands intensity as an organization and as individuals if we are to win. Remember that intensity is focused and directed at meaningful business achievements. We need not be arrogant in our style or reckless in our approach. Personal intensity is internally driven and impossible to imitate. Because we are all different though, with different personalities and styles, the intensity we have for our work will express itself differently.
Let's not judge one another on the outward showing or lack thereof, but on the energy that is brought forth to the task. Winners are intense.
Winning is about attitude.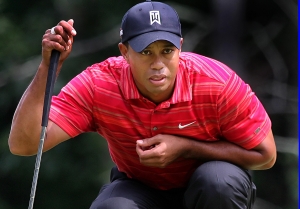 It is my belief that human performance is at the convergence of knowledge, skill and attitude. Knowledge is what we carry in our heads. It is intellect accumulated over the course of our life. Knowledge is learned. Skill is knowledge applied to produce something of value. Skill is doing and is practiced.
Attitude, however, is our frame of reference. It is how we view the world and dictates how we behave in a particular situation. There are many athletes who have the knowledge and skill in their sport, but lack the consistent attitude to win. Those that do can take it to a higher level. One of the best winning attitudes is in present day sports. Tiger Woods doesn't win every tournament in which he competes. In fact, Tiger Woods doesn't win most of his tournaments…he just thinks he will. At 26 years old, he is the top rated golfer in the world with 46 career victories and 9 majors to his credit. He is extremely knowledgeable about the game and is a stunning shot-maker. But in addition to that, Tiger has the attitude of a champion. He really believes he will win every time he takes to the course. Every round, every hole, every shot is played to win. Attitude is intangible and impossible to measure, but it is what distinguishes him from other very fine golfers.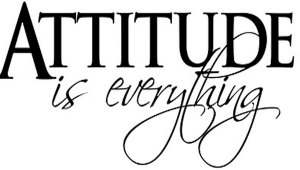 If we are to win big and win consistently in BigCo,then we must have the attitude of a champion. We must believe that we can win if we apply our collective knowledge and skill. Think about how powerful those are as you plan and execute your day. There is good reason to believe we can be successful. One only has to look back on the recent past and note the many achievements that we have seen here and around the BigCo world. We are an organization rich in accomplishments, from technological advances to people and teams doing remarkable things. So let's take it one day at a time, one hole at a time.
Aim for the flag on every shot. Winners believe they can win.
Winning is about strength.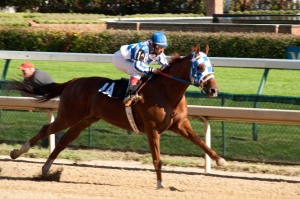 Most athletic endeavors require physical strength, and in some cases, it is the strongest that prevail when all else is equal. An athlete's strength is the combination of the physical abilities given and the conditioning undergone. When both are in high measure, an extraordinary athlete can result. The "athlete" I've chosen to make my point here is not a person, but a horse….an extraordinary horse. Secretariat was a large and beautiful chestnut colt with powerful legs. His trainer saw his potential early on and brought out the best in him.
At the start of the 1973 season, the horse-racing world had not produced a Triple Crown winner since Citation in 1948, but history was about to be made. In May, jockey Ron Turcotte rode Secretariat to a Kentucky Derby win and posted the first-ever run under 2:00 minutes. Following a win in the Preakness, Secretariat made a run at the third and longest leg of the Triple Crown, the Belmont Stakes. Millions watched on national television as Secretariat shaved almost three seconds off the track record and strided to victory with a 31-length lead. Secretariat was retired from a brilliant career later in 1973 with 16 wins in 21 starts. Following his death in 1989, it was discovered that his heart was actually twice the size of an average horse. There was no deformity, it was just a large and perfect heart and that allowed Secretariat to do the things he did.
The moral of the story is that with strong legs and a lot of heart, you can "run for the roses". In fact, you should. In BigCo, physical strength is usually not as important as strength in other areas. As an organization we rely on a strong balance sheet, our strong reputation around the globe, and the strength of our physical assets to name a few. As individuals, we should possess strong skills, the strength of teamwork, and, yes, be strong of heart.
We will continue to face adversity in the execution of our plans, but with our portfolio of strengths, we can muscle our way to success. Winners are strong.
Winning is about longevity.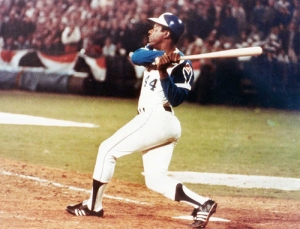 Great sporting achievements can happen in a single moment, over a season or span an entire career. The truly outstanding athletes can perform at a high level year-in and year-out. Not to diminish single season accomplishments, but those most admired and remembered are those who have had a brilliant career at their game. There are many examples of this, but the one that comes first to my mind is that of Henry Aaron.
"Hammerin' Hank", as he was called, played 23 seasons in major league baseball, most with the Atlanta Braves. He is best known for breaking Babe Ruth's career home run record with 755 to his credit. But even the most avid baseball enthusiasts probably do not know that Hank holds 12 other major league career records including most games played, most at-bats, total bases, and most RBI's. With 3 Gold Gloves and 23 All-Star appearances, Aaron was a complete player and delivered consistent, outstanding performance across his long career. There are few athletes in any sport that can boast of such excellence and longevity.
If we are to be winners in BigCo, we must deliver outstanding results consistently and over the long term. It is the reason that a shareholder invests in us. The financial world is cold and harsh, accepting little in the form of excuses. No, we in SmallCo cannot turn around the entire corporation, but as the single largest Operating Unit in BigCo, we hold a major portion of the investment and are expected to return proportionately. Sure we will have off years, but the cumulative value created and delivered is our most meaningful measure of success.
This is true for us as individuals and as an organization. Winners play good and play long.
Winning is about controlling our own destiny.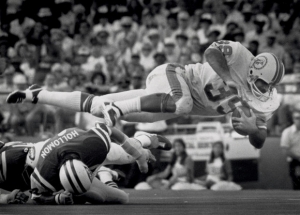 When athletes concentrate on winning they need not be concerned if others have success. It's only when they look over their shoulders and get distracted that they increase the likelihood of a stumble. In 1972, the Miami Dolphins took the field as defending AFC champions. Having been beaten soundly in Super Bowl VI, they were not expected to repeat. They won their first four games, but in the fifth game lost their starting quarterback, Bob Griese, to a broken ankle. With a 38-year-old backup quarterback named Earl Morrall and a "No Name Defense", the Dolphins won all of their regular season games, finishing 14-0. They were successful in two playoff rounds and found themselves back in the Super Bowl to face the Washington Redskins.
Even though Miami was undefeated to this point, the Redskins were favored to win the big game. But Miami prevailed for a 14-7 victory and took home the Super Bowl VII trophy. In doing so they did what no professional football team had done or has yet to do 30 years later, have a perfect season. The 1972 Dolphins, with their 17-0 record, stand as one of the NFL's greatest single-season achievements. Under the guidance of Coach Don Shula, who kept them somewhat isolated from the press, the Dolphins focused each week on their next opponent and took one game at a time throughout the season. They were a team without many star players and had to overcome the loss of their starting quarterback, yet they did not allow themselves to be distracted by the victories of other teams. In doing so, they made football history.
In our current business environment, there is a tendency of our organization recently to focus on the competition beyond what is useful. Certainly, it is good business to understand the strategies and activities of competitors as it can help shape our own in response to a business threat or opportunity. But this becomes unproductive and unprofessional when we allow ourselves to revel in the misfortunes of our competitors. Let's concern ourselves with executing our plans and winning from within and leave the mud slinging to losers.
If we win all of our games, we don't have to hope for anyone else to lose. Winners control the outcome.

So there you have it, seven qualities of winners for you to reflect upon. This message is not at all about sports but how we can be winners, particularly in this most difficult year we are entering. I am getting increasingly concerned that parts of the organization have unknowingly adopted a defeatist attitude and I would like to revive a "Winning Spirit" in us all.
Please think about these messages and try to place them in the context of your own situation. Assess which of these you feel you posses and which offer an opportunity. We are a winning organization already, but need to guard against letting the obstacles and challenges pull us down.
We have all the ingredients: the best people in the industry, world-class assets and a long history of success to fuel our motivation. As you make your New Year's resolutions, along with the promise to exercise more, lose five pounds and be kinder, add a resolution to be a leader with a Winning Spirit. I'm not speaking only about organizational leaders either. There are no stripes on this one folks.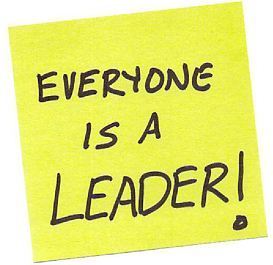 We are all leaders, or can be, when it comes to lifting each other up. Accept my challenge, you have my encouragement.
I will close by thanking you for your efforts in a difficult 2002. I wish all employees and their families a safe and prosperous year in 2003. May you dream large and have most of your dreams come true. God bless you all.
Editors Note: Frank provided me this piece last Spring after I had adopted my own defeatist attitude. I was tired and thinking about quitting. This piece had me rethink my strategy and how to play the game. And I've been winning ever since. Thanks, Frank. Not bad for a retired oil man-turned chicken farmer. Your heart for people and passion to win is tremendous.