Dear Fabulous You,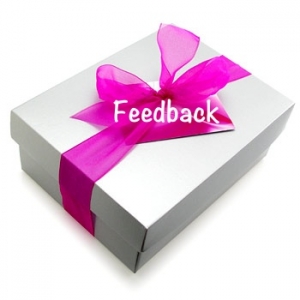 Feedback is a gift. The survey responses were overwhelming so I feel like it's Christmas all over again! Thank-you!
Here's what you can continue to expect…
Here's what will change …
You want (and we need) the male perspective. (It's coming. I hope not to disappoint next week with my first male guest.)
You are interested in a range of topics … influence, networking work life balance, health and fitness, leadership and what it takes to move from contributor to manager to leader. I will seek to bring more content to the table that you want and like.
Many of you read daily, some a few times a week but some of you want freedom in the number of emails you get. I'm making changes soon so you have more flexibility in the posts you receive and when you receive them. (You guys and gals are so efficient!)
You want more interactivity. Some suggestions…an online meet-up/tweet party, online book club, group/individual leadership coaching.
How can you get involved?
Participating and engaging in the conversation is key. Comment, like, share, pin and tweet posts. This is how I will know what's working.
Do you want some space to share your own learning?

Connect with me and let's post it!

Do you have a friend or two who might benefit from the blog? Tell them about it!
Do you know a group, corporate or non-profit that could benefit from any of these messages?

Please connect me.
I want to write a book (okay, I am writing a book)! I don't know when it will launch but I am aiming this year. It's like anything else in life … a marathon. I'm pacing it and trying to balance it with the 293019 other things I've got going!
So, this little corner of the digital earth is a leadership lab where we can all grow and learn together. I thank you for following, sticking with me, engaging, tweeting, sharing, liking, pinning…and more importantly, our connection and the learning you give me every day.
Thank you for the gift of you!
Katie