Yesterday I was assembling toys for Ally in the wee hours of Christmas morning. "Some assembly required" are three words I fear.
There I was at 2 AM steadfastly putting together a 40 pound table and chairs with a monkey wrench. For a few minutes I sat on the ground, tired and very frustrated. My husband had gone to sleep, not wanting a thing to do with any of it at that hour.
When I am stuck, feeling crabby or looking for answers, I often wonder what my parents would do.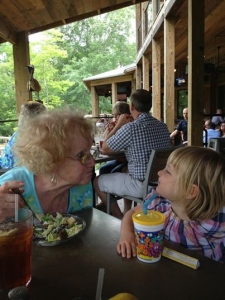 So, in that moment, I reflected on how my own parents probably did the very same thing every year for my two sisters and I. (And I'm sure toys were harder to assemble 25 years ago!)
It made me realize how special this moment really was, despite how difficult it seemed. I began to smile, and even laughed thinking about how Ally might respond to her new toys. I imagined her sweet face light up. I thought about her sitting at the table smiling, coloring, or playing with a friend. It relieved me and put me on a mission to finish the job. Each turn of the monkey wrench and I was more determined to get it done.
Life is too short. And it is in those later years we remember these moments that allow us to relive a smile, a laugh or perhaps even cry.
Today is a special day. My mom turns 71. Today I celebrate my mom...a wonderful mother and grandmother who has given me so many wonderful memories.
Thanks mom for all of the toys you assembled, the hardship you endured, the days you cared for me when I couldn't, and the special memories you created for me...for Ally...and for our family. I will never forget you or them.
Happy Birthday Mom!