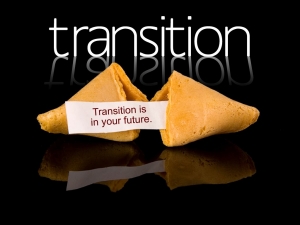 Yesterday I reflected on how life is too short.
Today, I was perusing LinkedIn to find a few recently retired colleagues and came across a few titles I found to be redundant.
"HR Leader in Transition", "Experienced Accounting Manager In Transition", "In Transition Mother Seeking Full Time Work". It all had me thinking... aren't we always in some sort of transition? New grads are transitioning from college or trade school to full-time work. People are getting married, divorced, widowed, are having kids, starting new jobs, getting laid off, getting fired, taking care of elderly parents and the list goes on. We are highly mobile and truly global.
It seems like we're always "transitioning" ... and nothing stands still anymore.
I reflect on this topic today because my boss's retirement reception is this afternoon. Dave has been with the company for over 50 years. His dad was a lawyer and then after 34 years of his own, Dave is moving from "Lifer" status to "Retiree". Ahem, in his 50s? HUH? When did 50 something become the threshold for retirement? 50 is the new 30... I somehow don't see my very youthful boss fully retiring. Thus he's entering "pre-retirement". And this, by today's standards could go on a while.
We have science and technology to thank for the transition phenomenon. Medical advancements are keeping us alive longer. Likewise, the internet has created a new world economy and opportunities that didn't exist 20 years ago. Dave has new earning potential options today he didn't have when he entered the workforce.
I think we're all always going to be "in transition". The world is always on. The boundary between what's change and what's business as usual is long gone. Transitions are just connections points between people, experiences, and time in the marathon of life.
I turn a ripe 38 in 10 days. My secret to transition and change? Energy! I hope one day my 60 is the new 20...
What do you think? Is 50 the new 30? Are you about to pre-retire or in pre-retirement? Tell us about it!