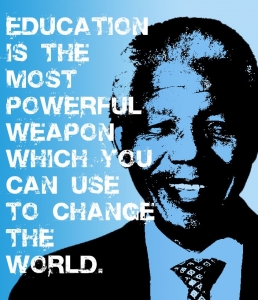 "Finish Line Friday" posts are intended to inspire us to think about the finish line. In some cases, the finish is a project, a week at work, a piece of inspiration to keep you headed to whatever the next finish is.
It's only suitable that today's post is dedicated to a man, a leader, and a mentor of mine who changed the way I thought about my world and the world at large: President Nelson Mandela.

There are few world events that have had a profound effect on me including 911 and the passing of some of my other childhood heroes...Ronald Reagan and Steve Jobs. Nelson Mandela's death marks another time in the history of our life where I reflect on what his life, his work, and his legacy leaves with me.
Mandela once said ... "Education is the most powerful weapon which you can use to change the world."
This will forever be fixed in my thoughts and my actions.
The most profound thing that has touched me in my adult years is the difference between fixing/doing and coaching others to fix their own things. It's about knowing yourself and growing, and then being able to influence others to see that by educating them through their own change. It's about knowing which things are yours to worry about, letting go, maintaining self-control, having patience, discipline, courage, pace, and grace to see things through.
I read an article that beautifully described this the other day. Today's leaders (insert any role here really) need to be less about "surgery" (and not surgeons) who patch and fix situations but more like psychologists...people who can help others see their problems and opportunities, step through and support them through their own change.
Change is a beautiful thing. Everyone comes at it a different space and time. But it's not going anywhere. It's here to stay. Agility, bravery, confidence, courage and the emotional intelligence it takes to tackle every day life's problems and opportunities are the skills we need to thrive and to set great examples for our children.
What I simply love about this is it means we have to be able to be open to educating ourselves, see our "stuff" (the good bad and the ugly), own it and manage it. Only then can you develop the skill of seeing it in others and influencing their thinking to create more change.
Mandela was right. Education is the most powerful weapon to change the world. He changed my world...our world. He could see things others couldn't. He persevered, influenced and created a legacy that will forever live on.
Rest in Peace, Madiba. Your race, pace, and grace has made this finish line one mankind will never forget.
Note: You can read other Finish Line Friday posts here.