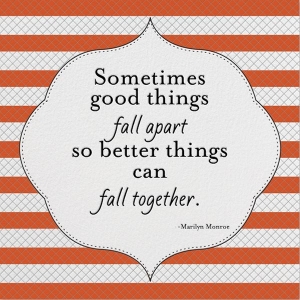 Last Friday, as the world prepared for the weekend, the people of the Philippines were pounded with the largest typhoon known on record to hit land. At present the death toll stands at 4400 and they fear more will be found. It's hard to imagine something so powerful can sweep away an entire lifetime of hopes, dreams, and livelihoods. For me it's a stark reminder of the summer of 2005 when New Orleans and much of the gulf coast was wiped away in Hurricane Katrina. This typhoon is far worse and has affected 9.5 million people and displaced 600,000.
The pictures are absolutely devastating.

As we wind down the year we move into the holiday season when a lot of us reflect on the blessings we've been given. The world is full of hurt, loss, frustration, sadness, and devastation. It is hope and a resolve to keep our faith that pulls us through these times.
Perhaps you are struggling with your own devastation.... a divorce, infidelity, death of a loved one, job loss, or life change. Please take this time to reflect on the things you do have. Hope, faith, friendship, and love. The kindness of strangers is a powerful gift I've seen our world give to one another in times of grief. And it is the simple things that matter: a hand to hold, a warm blanket, a hot meal, or a prayer...
In times like this and in times in my own life when I've faced devastation, I've held onto this one thought....
Sometimes though things fall apart, so better things can fall together. You just gotta keep going.
It's harder than it sounds, but it is through devastation the human spirit shines and makes us stronger.
Happy Friday and may hope, prayer and faith lift you, your friends and family and our global neighbors abroad.
To find a way to help provide hope to the Typhoon Relief Effort, visit this site.