We've all heard something like this before... Lao Tzu told us, 'a journey of a thousand miles begins with a single step' and Mark Twain told us, 'don't be afraid to go out on a limb - that is where the fruit is'... And then there's the famous one from Milton Berle, 'if opportunity doesn't knock, build a door.'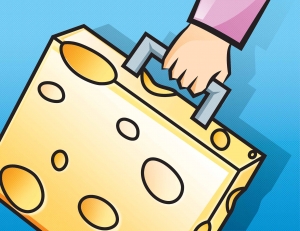 I often wonder why I, why we all, don't listen more...
I regularly take time out from my daily work and life to focus on my development and conferences. I get jazzed up about things I can do to better my current role, career path, and personal life. Coming out of those experiences I often have many leanings that I want to implement. When I get home, though, life takes over and weeks or months later I look back and realize I haven't acted on my intentions or plans. After some reflection on this I've found I'm often waiting on someone else to act on my behalf or frankly just waiting my turn - I decided that needs to change.
At a recent conference I listened to several participants talk about unease with their current role or career trajectory, desire to move on, or simply not knowing what to do next. I'm not going to say I have the answer, because I believe it's all a personal choice but we all need to know when it's time to build our own door and move our cheese.
How do you know when it's time to move your cheese?
Start with trusting your gut. You know that feeling inside of you that tells you have been in a space for too long. Trust it.
Ask yourself if you're too comfortable. Being successful at your job is good but once you've got that down and you're really settled in - ask yourself if you're too settled.
Take a pulse on your learning. Are you learning something new on a regular basis? It doesn't have to be every day but regularly enough to keep you engaged, growing, developing, and keeping you eager to learn more.
Check in with a trusted advisor. If you don't have that friend, colleague, or mentor that you can go to for advice - find one. Having a sounding board to bounce ideas off of and discuss potential is one of those too hidden keys to success.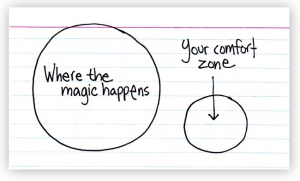 Sometimes it's the simple things that are the hardest to recognize and act upon. The realization that I needed to move my own cheese has brought me several great experiences:
I took the opportunity to join a friend in her mission to run the Berlin marathon and in doing that I had the opportunity to inline skate the Berlin marathon, not once but twice. (That's over 50 miles on roller skates!)

After waiting my turn for many years, with a little push I decided to stop waiting and built my own door. I threw my name in the hat for the President-Elect of the Shell Women's Network. Guess who is the 2014 President-Elect and President in 2015?

Realizing I am in a comfortable and respected role, I decided to take that first step. I've put myself out there and took a risk to move roles.
Don't be afraid to move your own cheese! If you cannot see the space into which you want to move, build a door to move your cheese through. Opportunities come when people see you put yourself out there.
Is it time for you to take that first step? GO FOR IT!